Concrete block making machine for sale. - Giyani
Wednesday, 3 August 2016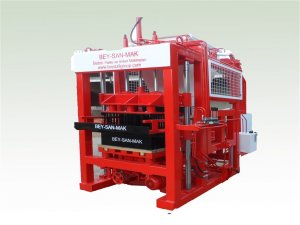 Contacts

Minares

00905075968673
Item description
Code : 004
contact person : minares ehsani\00905075968673
products included in the price
prs 600 semi automatic single hopper concrete block machine 1 pcs. Prs 600 different types of block moulds ( st 52) 2 pcs. Pallet front output conveyor 1 pcs. Manual pallet carrier 3 pcs. Machine operator platform 1 pcs. Prs 600 semi automatic machine electric unit 1 pcs. Some specifications
prs 600 - semi automatic operated system has been designed for mortar plant on the ground, placement images are in the catalog. The semi automatic machine has been prepared on the basis of 24 hours work shift and if enough pallets are avalible , with working 8 hours daily shift the machine can produce between 5500 - 7500 pieces bricks of 20 cm. Manual machines working system is based on manpower therfore the given values about daily production can declines between 20 - 25 %. Description
for the machine with the propertys given above, recommended installation and stock area average is 750 m2 there is no obligation to roofing of the producing area. Concrete floor of the installation course is advised to be at the rate of 1/3. The products of the semi automatic machine are placed to the drying area one by one. That's why the fields square meter average is more than by automatic systems. In addition; because the pallets with products are placed over a wide area collecting takes lot's of time , in that case we observed declines in staff working capacity. Therfore we advice to use automatic systems. Other features
producing on one pallet: 6 pcs. 20 cm// 8 pcs. 15 cm/10 pcs. 10 cm/16 pcs. Of interlocking paving blocks. Pallet size: 70x90 x 4 cm
production staff: 8 employes ( 2 employes for mortar/1 employe for mixer /1 employe for machine / 3 employes for pallet carrying/ 1 employe for cement)
export transport volume average is 1 pcs. Container of 20 m3
commercial terms
the campaign prices are valid until 30. 07. 2016
delivery time is maximum 30 working days. Operators course to one of your employe will given by our company before delivery. The machine has been designed with a single mortar hopper. The second mortar hopper can added, the price is not included. Testing and commissioning will be realized on our factory field with observation of the recipient. Commissioning process can also be realized on the field of the customer, where the setup will be realized. Travelling and accomodation costs of the technical team and hydraulic oil for the machine shall be paid by the recipient. By editing of the official contract 30% of the order will be charged in advance. The remaining cash will be charged by delivery. The total payment of the order, made in advance 5% discount will be applied. Our prices are ex-works trabzon turkey. Transport and insurance costs are not included in the price, by overseas sales taxes are not be requested. All of our products are suitable for sale on the bank loan and leasing. All of our manufacturing defects in all of our products are guaranteed for 5 years. In case of failure we guarantee to intervene domestic 48 hours, all around the world between 72 - 120 hours. For the preparations you have to do in your field, discovery and installation plan will be given by our company free of charge. Special offer for the customers
for the customers who orders extra materials like pallets, silo, bunker, packing materials , forklift etc. %10 discount will be applied.